Research
3) Coherent Raman spectroscopy with ultrashort laser pulses
Using impulsive stimulated Raman scattering (ISRS) processes with ultrashort laser pulses (≤10fs), we can coherently drive high-frequency phonons of materials. Further, we also utilize the enhanced electromagnetic field around metal nanostructures deposited on material's surface to elucidate the electron-phonon coupling and coherence/decoherence of various vibrations from local structures or single molecule.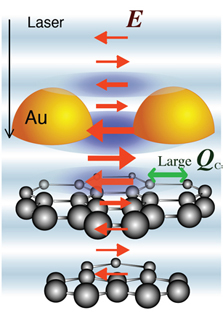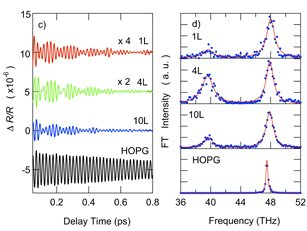 Related papers
I. Katayama, S. Koga, K. Shudo, J. Takeda, T. Shimada, A. Kubo, S. Hishita, D. Fujita, and M. Kitajima, "Ultrafast Dynamics of Surface-Enhanced Raman Scattering Due to Au Nanostructures", Nano Letters, 11, 2648 (2011).
S. Koga, I. Katayama, S. Abe, H. Fukidome, M. Suemitsu, M. Kitajima and J. Takeda, "High-Frequency Coherent Phonons in Graphene on Silicon", Appl. Phys. Express, 4, 045101 (2011). *Selected for Virtual Journal of Ultrafast Science, 10, issue 5 (2011).