Research
2) Broadband / intense time-domain THz spectroscopy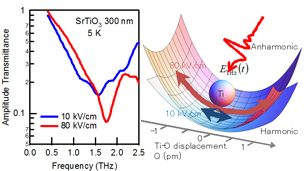 We have built up a broadband time-domain THz spectroscopy ranging from 0.1 to 10-200 THz using photoconducting semiconductor antennas or nonlinear organic crystals with ultrashort laser pulses (≤10 fs). We have also generated intense THz pulses using an Mg-doped LiNbO3 single crystal excited by laser pulses having a tilted pulse front. Using these THz techniques, dynamics of free carriers due to surface metallic states, electron-phonon couplings and lattice vibrational modes relevant to photochemical reactions and structural phase transitions can be revealed.
Related papers
I. Katayama, H. Aoki, J. Takeda, H. Shimosato, M. Ashida, R. Kinjo, I. Kawayama, M. Tonouchi, M. Nagai and K. Tanaka, "Ferroelectric Soft Mode in a SrTiO3 Thin-Film Impulsively Driven to the Anharmonic Regime Using Intense Picosecond Terahertz Pulses", Phys. Rev. Lett., 108, 097401: pp. 1-5(2012).
I. Katayama, R. Akai, M. Bito, H. Shimosato, K. Miyamoto, H. Ito and M. Ashida, "Ultrabroadband Terahertz Generation Using 4-N,N-Dimethylamino-4'-N'-Methyl-Stilbazolium Tosylate Single Crystals", Appl. Phys. Lett., 97, 021105 (2010).